We break news, is it breaking you?
Have anxiety every time you pitch a story or talk to your managers?
Can't sleep or unplug?
Stress eat, shop, drink?
Wondering what the point of your journalism career is? 
Feeling burnt out and ready to quit?
Dread going to work every day?


What would it be like to have the tools to manage news stress?
Understand the neuroscience of why our profession sees so much burnout, beyond the "nature of the business" 
Have your own mental wellness routine to use on the days news is too much
Feel empowered to meditate without having to sit in silence for hours on end
Learn resiliency and get back to the storyteller within
Learn how to craft your own yoga and meditation practice to manage news stress.
 By the end of this 6 week course you'll know how yoga can be used to address trauma and stress in news
You'll leave with clear mental wellness plan and outline of what yoga and meditation practices works best for you
Learn to recognize how stress may be showing up in your life and body
Walk away with the knowledge to continue your path as a News Yogi and get closer to balance and the storyteller within
 Hi! My name is Leslie and I'm so glad you're here. I started yoga for journalists in the midst of the pandemic. Yoga has been my life's work and literally helped save my life personally and professionally.
Early on in my career, I dealt with a lot of s*@! It was tough. I had anxiety, dealt with secondary trauma from news, doubted myself and could not relax. I dreaded going to work and some days I didn't have time for yoga because what studio offers a 10pm class after my shift? So I became a teacher and taught myself.
I wish I would've had a "News Yogi" in my life to help guide me through those dark days I went through. Now, I'm sharing the tools I used to help me deal with this crazy career we chose.
Taking a yoga class here and there is great, but imagine if you could have a plan to help during those weeks news cripples us mentally. Stop guessing and let me help you find your own path and what works for YOU in the yoga and wellness space to help manage stress and get back to your mission in journalism.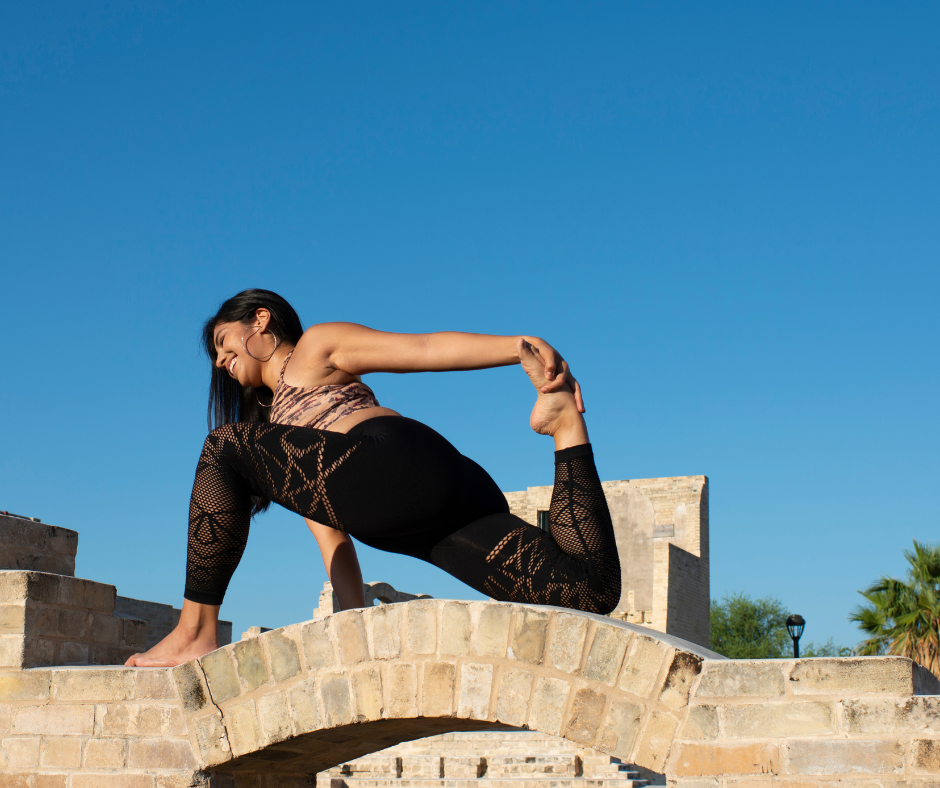 Each week you'll have the option for 2 practices as part of the 6-week course. One will be recorded, the other is a live Saturday morning class. The theme will directly related to lessons from each week.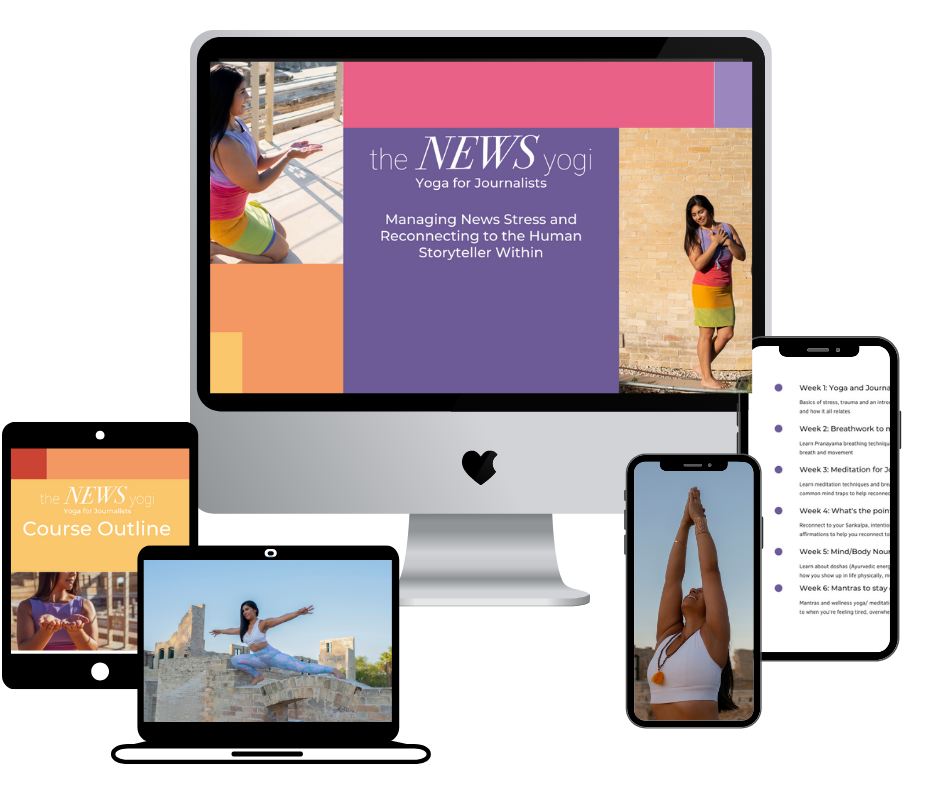 Lessons at your own pace
Each week you'll have 4 lessons to complete, each less than 15 minutes. These can be taken at your own pace as we know undoubtedly news will be news and our schedules are crazy.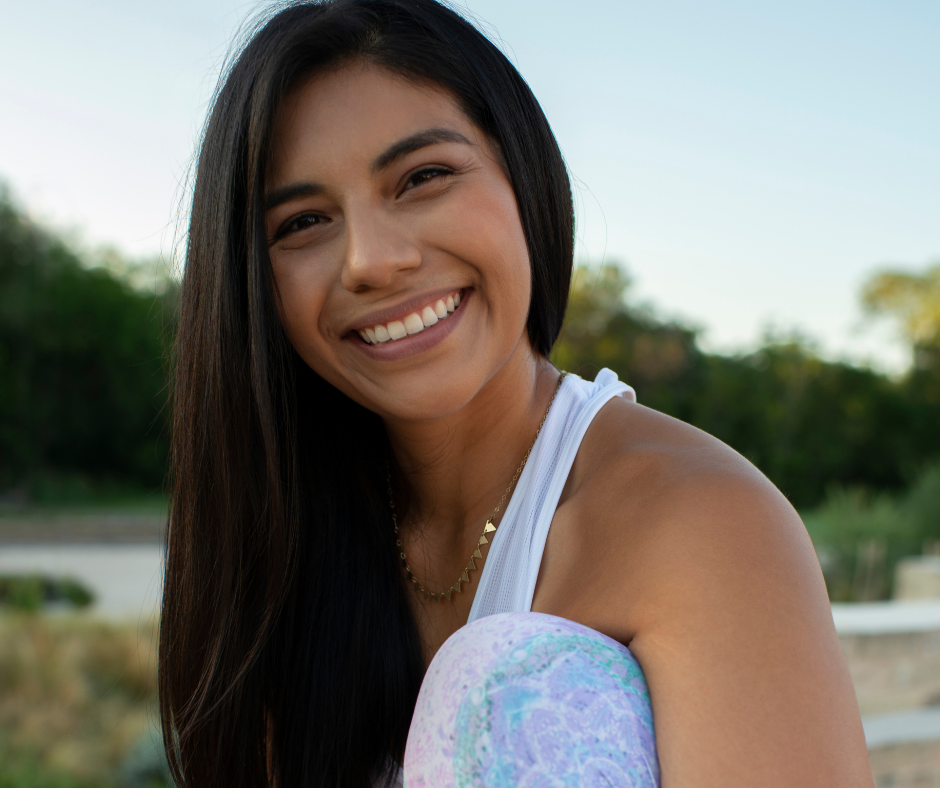 One-on-One Coaching Calls
We'll have 4 coaching calls throughout the 6 week course. Each will be an opportunity to discuss, check in, ask questions and meet in community with other News Yogis. These are in addition to live Zoom classes you'll have access to every Saturday during the course.
What fellow journalists are saying about The News Yogi: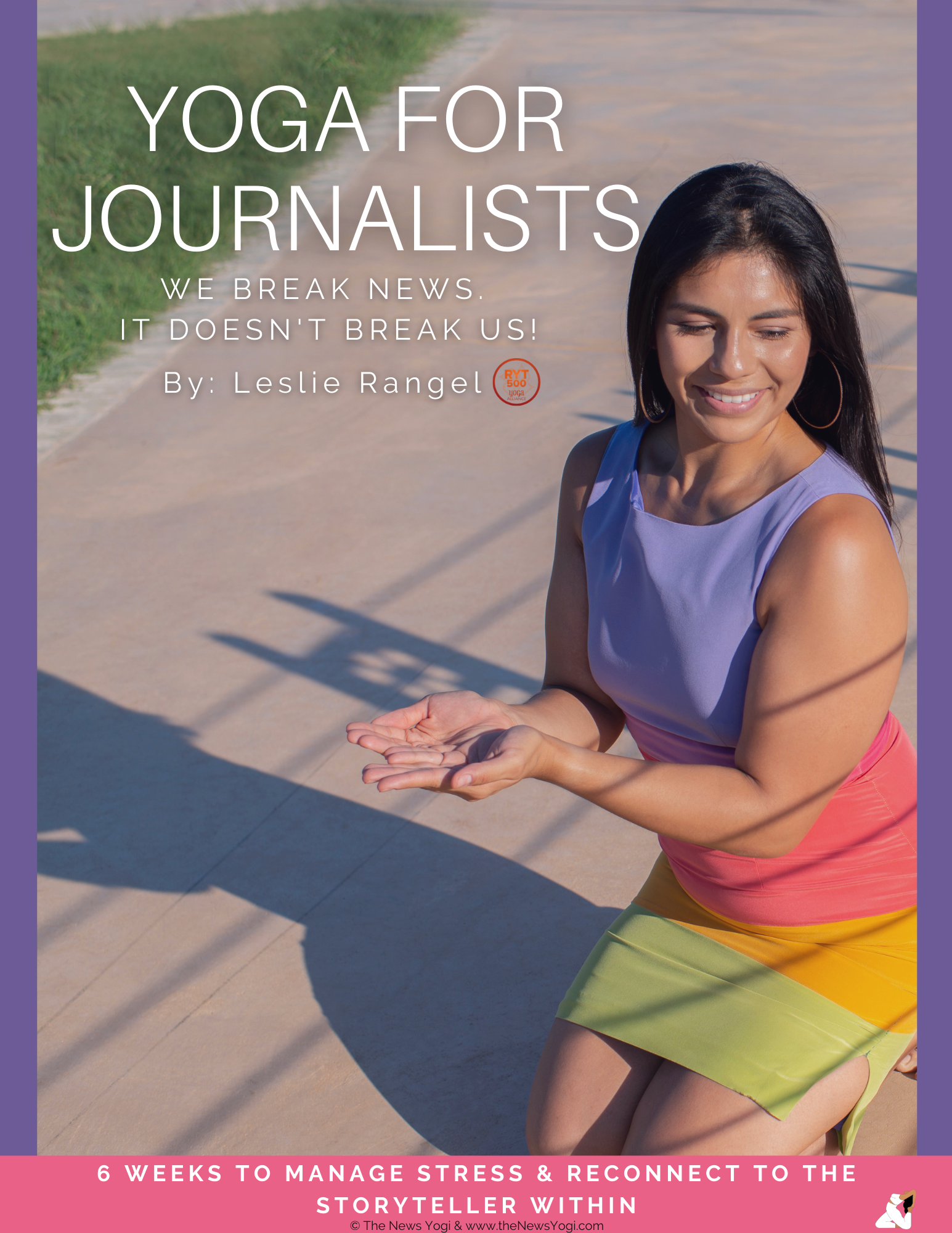 What you get:
The Yoga for Journalists self-paced curriculum consists of 6 weeks of in-depth yoga studies. Each week, you'll get access to a new module. You can slow down to your own pace for weeks where news will undoubtedly change up our schedules. You are also welcome to revisit any material as you'd like. You'll have a personal online portal powered through Teachable that can be access from your computer, phone or the ios app.
Yoga and meditation practice is required for participation in this program. Watch anywhere, anytime.
Leslie puts together a special exclusive yoga practice to coincide with the week's theme to help really embody the yoga practice.
EACH WEEK:
Brand New Asana (physical) video practice to help you embody the the week's lesson
At least 3 new short form video lessons no more than 15 minutes each fo easy watching
TOTAL = 6 exclusive Asana video practices
TOTAL = 24 exclusive Yoga for Journalists lessons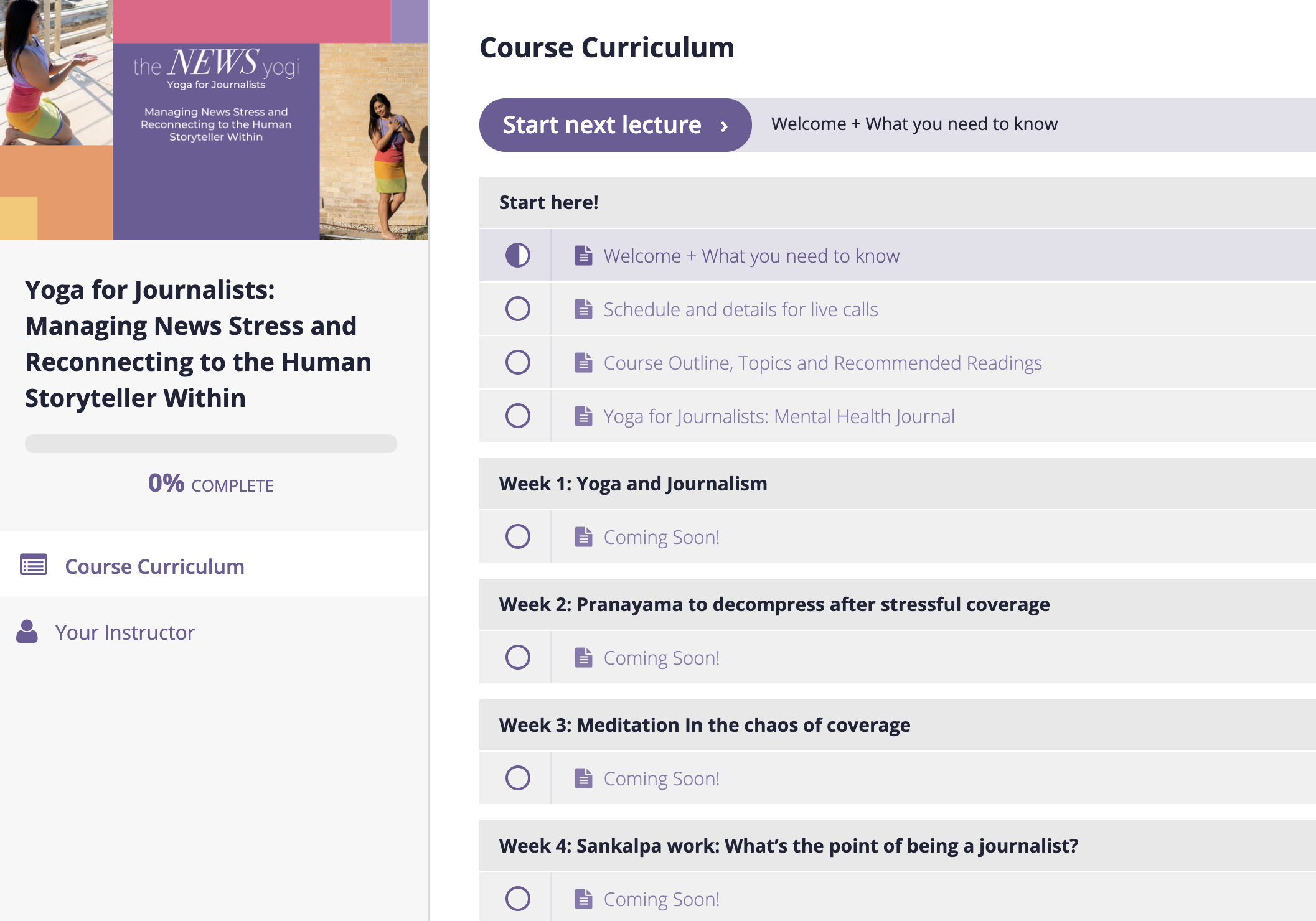 Got Questions? I've got answers:
I'm not flexible, can I still do this course?
My teacher always said, do you mean you're not mentally flexible? haha but 100% yes! Just like anything else we try in life, we don't do it because we're experts at it. We do it to grow and get better.
When does the course start?
This is a self-paced course to let you move through the material as needed.
How long will I have access to the course?
For life! You'll be able to go back an re-watch anytime you need.
What if I don't love the course?
I want this to be something you can benefit from. Contact me within 24 hours and I'll give you a refund.
Will this course substitute therapy?
Please contact your doctor before starting any physical or mental wellness program. This is not a substitute for therapy or medical visits.
I'm really excited to take this, but I'm really tight on money...
I'd love to help fellow newsies for free, but I have to charge for my valuable time. Just one yoga teacher training is $3,500 and I've invested thousands in learning these yogic techniques. See this as an investment in yourself and your mental health. These are tools you will have access to for life!
*A limited number of scholarships are available to address systemic racial and economic disparities in wellness. Please send me an email [email protected] and we can chat.
I have a coupon code from a journalism conference from 2020, how do I use it?
Please email me [email protected] along with the conference name, the date you attended and what session you were in with me and I'll make sure we get the discount!
Not ready for the 6 week course?
Check out the online News Yogi virtual yoga studio. Choose from dozens of yoga classes from 10 minutes to 60 minute practices.
EXAMPLE